JoJo Too Little Too Late
Feedsee Music : JoJo Too Little Too Late : Debut single from her second album The High Road, available in stores on October 17th
JoJo, whose real name is Joanna Noëlle Levesque, is an American singer, songwriter, and actress. She was born in Brattleboro, Vermont, on December 20, 1990, and raised in Foxborough, Massachusetts.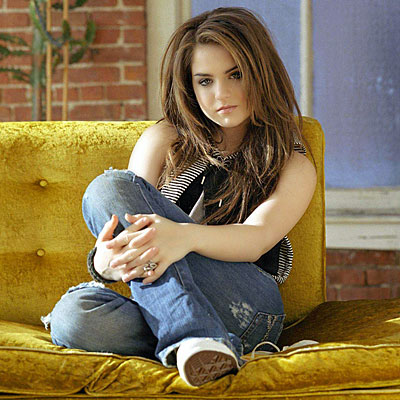 In 2006, JoJo's new song Too Little Too Late, the debut single from her second album The High Road, went from 66 to 3 on Billboard Magazine's Hot 100 Singles chart, an historic leap. The song became a multi-format hit. The video for that single also garnered an MTV Video Music Award nomination, making JoJo at fifteen the youngest nominee in the history of the MTV Awards. Her new album The High Road, picks up right where the multi-talented starlet left off. JoJo kept herself busy with an acclaimed foray into movies this past year, starring in Aquamarine with Emma Roberts and RV alongside Robin Williams which debuted number one in America. She graced the covers of CosmoGirl, Teen, Sweet 16 and Girl's Life and was the covergirl for Seventeen's Prom Issue.
JoJo Career Highlights
Early Career: JoJo started performing as a child, making appearances on TV shows and in off-Broadway theatre. She competed on the TV show "America's Most Talented Kids" in 2003, which led to her being noticed by record producer Vincent Herbert who asked her to audition for Blackground Records.
Debut Album: In 2004, at age 13, JoJo released her eponymous debut album, which was a commercial success, peaking at number four on the Billboard 200. It included hit singles "Leave (Get Out)" and "Baby It's You." With "Leave (Get Out)," JoJo became the youngest solo artist in history to top the Billboard Pop songs chart.
Second Album: Her second album, "The High Road," was released in 2006. It achieved similar commercial success, spawning the hit single "Too Little Too Late."
Contractual Disputes and Hiatus: JoJo's career was slowed by legal troubles with her record labels, Da Family and Blackground Records. She spent several years in contractual limbo, during which she released mixtapes to maintain a connection with her fans.
Return to Music: In 2014, after her contract was finally released, she signed with Atlantic Records. She released the "tringle" (a release of three singles simultaneously) "When Love Hurts," "Save My Soul," and "Say Love" in 2015. Her third album "Mad Love" was released in 2016.
Recent Developments: In 2018, JoJo announced she had re-recorded and released her first two albums after years of fans being unable to access them on streaming platforms due to her previous label disputes. In 2020, she released her fourth studio album, "Good to Know," under her own record label imprint Clover Music, which is a joint venture with Warner Records.
Acting Career: Alongside her music career, JoJo has also pursued acting, appearing in films such as "Aquamarine" and "RV."
Throughout her career, JoJo has been known for her powerful vocals and her raw, heartfelt songwriting, often drawing on her own personal experiences for inspiration. Despite the challenges she's faced, she has maintained a loyal fanbase and continues to be a respected figure in the music industry.