Feedsee Toys : Power Rev Moto Bike : Hot Wheels scale model motor bike with fully working suspension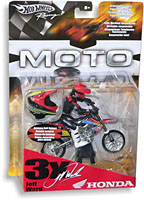 Cool, custom designed toy Hot Wheels moto bike and rider that pulls great tricks. 1:18 Scale. Fully working suspension. Features seat and tank, exhaust system, work stand, knobby tires, and working forks.
Includes Antenna Bell Helmet. Custom Hot Wheels moto style helmet graphic. Includes helmet with eleven exhaust vents. Collect them all.