Feedsee Toys : Talking Bratz Doll : Converse with your interactive dolls about boys, friends, and fashion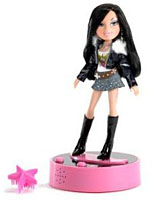 Do you want to talk about boys, fashion, and friends? Do you want to learn fashion tips that only the Bratz dolls know?
Now you can ask the Cloe and Yasmin, and they will answer. With interactive buttons on the base, you can finally have a conversation with the Bratz.